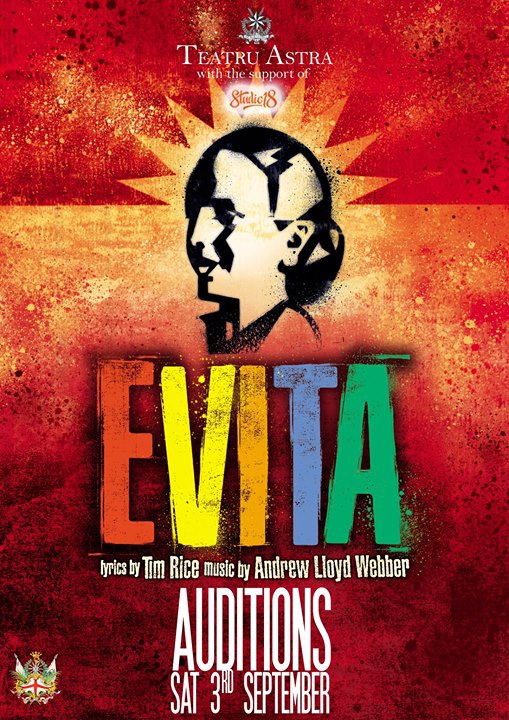 Event Details
Teatru Astra is announcing EVITA for March 2017 and calls for auditions!

Following on from the jump-for-joy success of Grease, the Teatru Astra is embarking on an even more ambitious project: Andrew Lloyd Webber's and Tim Rice's musical Evita.

Filled with memorable tunes such as 'Another Suitcase in Another Hall,' 'Oh hat A Circus', 'The Rainbow Tour' and of course 'Don't Cry For Me Argentina'.

Following stints in Los Angeles and San Francisco, Evita premiered on Broadway at the Broadway Theatre on 25th September 1979. Evita won an impressive seven Tony Awards including Best Book, Best Score and Best Musical of the year. In 1981, the Evita cast recording was awarded a Grammy Award.

Productions of Evita have been performed all over the world, including performances in Austria, Spain, Mexico and South Africa.

And now, for the first time - Evita comes to Gozo!

Open auditions for all the roles, including those of Evita, Che, Juan Peron, Arturo Magaldi and the Mistress will be held on September 3 at Teatru Astra.

Evita the musical also requires a varied ensemble cast. Indeed, the production calls for strong singers, strong dancers, and strong actors of all ethnicities, shapes, and sizes from the ages of 15 to 70 to portray a variety of roles.

Backed by the same creative team that last year gave you Grease, including the support of Studio 18, Evita promises to be yet another incredible and ambitious production.

Auditions are scheduled for Saturday 3 September at Teatru Astra. The audition pack and more information is available on Socjeta` Filarmonika La Stella's website www.lastella.com.mt.

Who will follow in the steps of Elaine Page, Patti LuPone, David Essex and Ricky Martin?

Are you up to the challenge?

Teatru Astra is!