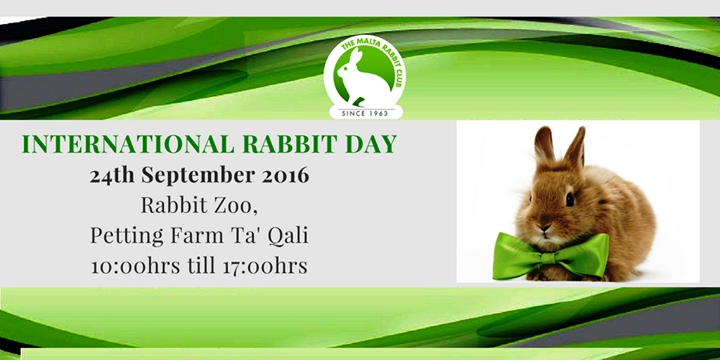 Event Details
ANNOUNCEMENT - THE INTERNATIONAL RABBIT DAY

The Malta Rabbit Club – Since 1963, in collaboration with the Petting Farm, the Ministry for Sustainable Development, the Environment and Climate Change and the Rural Festivities Unit (RFU) together with various project partners, will be organising its first Open Day at the Petting Farm in Ta' Qali. This will also mark the International Rabbit Day, which will also be celebrated for the FIRST TIME here in Malta.

It promotes the protection and care of rabbits both domestic and wild. International Rabbit Day is held each year on the fourth Saturday in September. This annual celebration of the long-eared, short-tailed mammal is not just in the name of the millions of bunnies kept as pets across the Western world, but aims to promote a serious message about animal welfare.

Furthermore, following the press conference for which various Ministers and Parliamentary Secretary will be attending, the Malta Rabbit Club will be proudly launching a number of projects mainly the maintenance of the Rabbit Zoo in the Petting Farm, as well as the official opening of the extension of the Rabbit Zoo which will give access to people with disability to walk in and spend time petting rabbits.

NOT TO BE MISSED ... there will be activities for the young and adults alike including the presentation of the 'Recognition Award 2016' given to the most deserving club member as well as practical sessions, petting section, rabbit table show, traditional foods and other entertainment such as the well known Fonzu l-Fenek.

PARTICIPATE ... enrol your furry babies to the table-show rabbit competition.

AND OF COURSE ... during the day, there are prizes to be won.

Note: Media representatives will be present during the day.