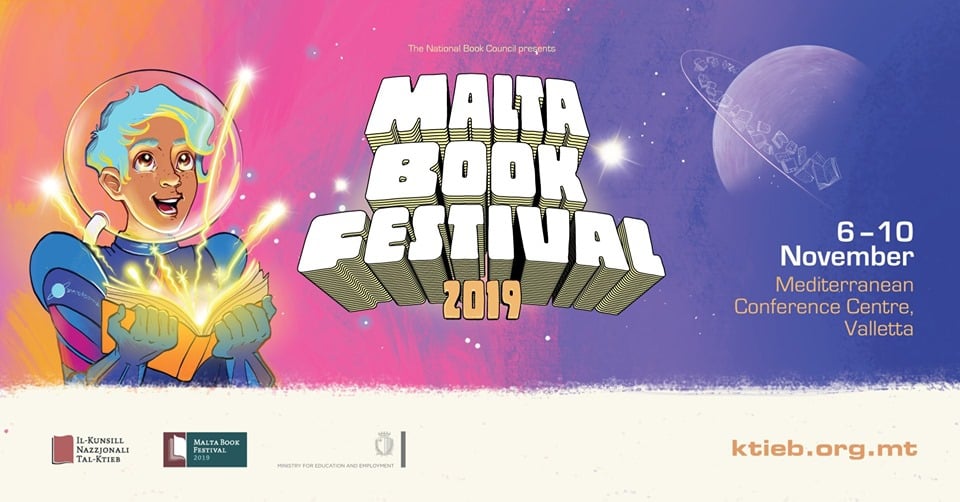 Event Details
The National Book Council (NBC) is pleased to announce the 2019 Malta Book Festival, the country's foremost annual book celebration, which will be taking place at the Mediterranean Conference Centre, Valletta, starting from Wednesday 6 November up to Sunday 10 November.

The full programme of events and activities will be published in the second week of September and will be delivered in printed format to all households in Malta and Gozo.

As in previous editions, the Festival will open with a conference, which will this year relate to the genres of sci-fi and fantasy, and will be led by a number of local and overseas authors. Among them is Loranne Vella, the Brussels based author of 'Rokit' (Merlin Publishers) and winner of the 2018 National Book Prize. The foreign authors attending the conference are Malta-born Jon Courtenay Grimwood, Kali Wallace and Dave Rudden.

In the coming weeks the NBC will also be announcing the name of a renowned international author as this year's special guest.

Students visiting on weekday mornings will be treated to a special programme of cultural and fun activities that is being prepared for them. Among them, performances by a group of professional actors led by Antonella Axisa, who will adapt last year's Terramaxka Prize winning works for the stage. The popular comedy duo Danusan will be once again staging performances inspired by the works which will have just been awarded the 2019 Terramaxka Prize. Tickets will be made on sale on the MCC website on the first week of September.

The NBC reminds all those exhibitors who haven't yet sent their application to do so at https://ktieb.org.mt/national-book-festival/ by 9 August.

Follow this space for more updates!
_________________________________________________________________

Il-Kunsill Nazzjonali tal-Ktieb (KNK) bi pjaċir iħabbar il-Festival Nazzjonali tal-Ktieb 2019, l-akbar ċelebrazzjoni tal-ktieb fil-kalendarju kulturali Malti, li se tittella' mill-Erbgħa 6 ta' Novembru sal-Ħadd 10 ta' Novembru.

Il-programm sħiħ se jiġi ppubblikat fit-tieni ġimgħa ta' Settembru u aktar tard jitqassam f'forma stampata fid-djar kollha f'Malta u Għawdex.

Bħal f'edizzjonijiet preċedenti, il-Festival se jiftaħ b'konferenza, li din is-sena se tkun imsejsa fuq il-ġeneru letterarju tal-fantaxjenza, u se tkun immexxija minn numru ta' awturi barranin u lokali. Fosthom, Loranne Vella, il-kittieba bbażata fi Brussell li rebħet il-Premju Nazzjonali tal-Ktieb 2018 bir-rumanz 'Rokit' (Merlin Publishers), u l-awturi barranin Dave Rudden, Kali Wallace, u l-kittieb imwieled Malta Jon Courtenay Grimwood.

Aktar il-quddiem il-KNK se jkun qed iħabbar ukoll l-awtur mistieden speċjali ta' dis-sena.

Programm speċjali ta' attivitajiet kulturali u divertenti qed jitħejja għall-istudenti li jżuru matul il-ġimgħa filgħodu. Fosthom drammi mtellgħin minn grupp ta' atturi mmexxija minn Antonella Axisa, li se jkunu qed jaddattaw il-kotba rebbieħa tal-Premju Terramaxka 2018. Id-duo popolari Danusan se jerġgħu jipparteċipaw b'xows ġodda ispirati mill-kotba li jkunu għadhom kif rebħu l-Premju Terramaxka 2019. Il-biljetti se jkunu disponibbli għall-bejgħ fuq is-sit tal-MCC fl-ewwel ġimgħa ta' Settembru.

Il-KNK ifakkar lill-dawk l-esebituri li għadhom ma bagħtux l-applikazzjoni tagħhom biex jagħmlu dan sad-9 t'Awwissu billi jżuru s-sit https://ktieb.org.mt/mt/festival-nazzjonali-tal-ktieb/

Segwu din il-paġna għal aktar aġġornamenti!