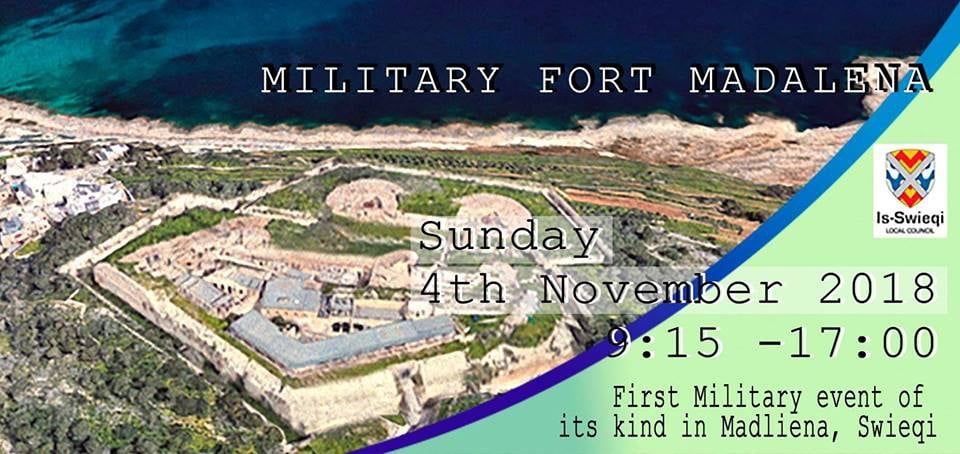 Military Fort Madalena
Sun Nov 4th 2018
---
Malta
,

Fort Madliena

,

Swieqi
https://www.myguidemalta.com/events/military-fort-madalena
VISIT WEBSITE
Event Details
Madliena Administrative Committee in conjunction with Swieqi Local Council are organising an event namely 'Military Fort Madalena' on Sunday 4th November 2018. This family day is open to the general public, various activities are prepared - there is something for everyone!

This function is being held with the courtesy of Armed Forces of
Malta and St. John Rescue Corp. Fort Madalena was built 140 years ago, between June 1878 and 1881. Nowadays the fort is being used by the Armed Forces of Malta.

To commemorate this occasion, the event will be initiated at 9.15am by armed military convoys from Swieqi to Madliena by the Military Vehicles Collectors Club and the Military Vehicles Club Gozo.

Activities will include:
• Hands on target shooting administered by S.A.F.E.
• Display of weapons and artillery equipment by AFM.
• Military drills by Malta Command WWll Group.
• German encampments by Battlefields Group.
• Life during the War by Mtarfa Drama Group.
• Scale Modeling by Anthony Micallef (AFV).
• Explanation regarding radars, antennas, radio transmission,
telecommunication equipment and hands on experience using
Morse code by Marconi Amateur Radio Circle and MARL Club
Attard.
• A battle reenactment will be performed by Malta Command WW2
Living History Group, Battlefields Group and from Siracusa, the
group Husky 1943.
• Pyrotechnic display by BG Malta Fireworks.
• Wallace Pipes and Drums will parade in from Ta' Stronka,
Madliena to Fort Madalena.
• Ramblers and Friends of the Victoria Lines. Trial of the five military
post of Wied il-Faham, starting from Ta' Stronka
• Activities by St. John Rescue Corp and other entertainment for
the very young such as the Bouncy Castle will be available.

It's a wonderful opportunity to appreciate our heritage and take a walk around Fort Madalena. It is suggested to have comfortable footwear, and a torch would be handy. Activities will be held in different parts of the Fort, including steps and rough terrain. Food and Drink can be purchased throughout the day.

Kindly find more information on the posters provided.