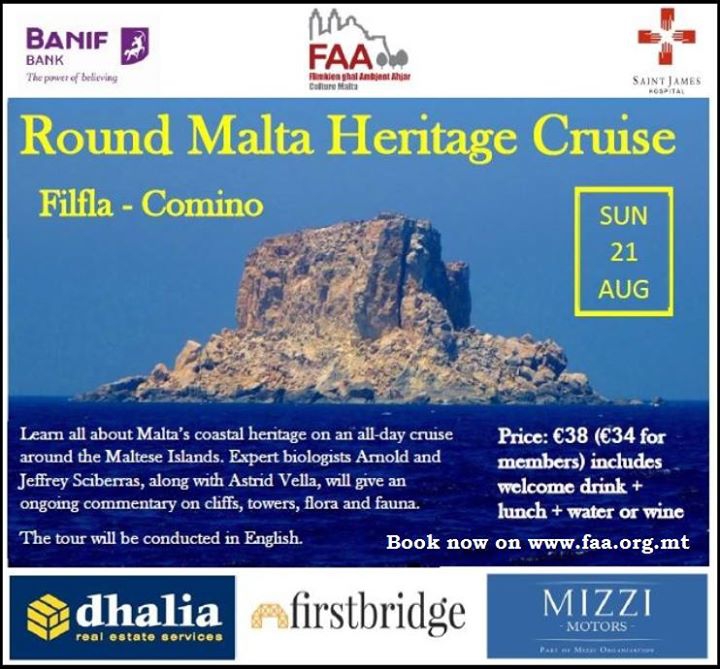 Round Malta Cruise - Filfla/Comino
Hera 2 (opposite Burger King, Sliema Ferries)
Sun Aug 21st 2016 at 09:00 until 18:00
---
Malta
Malta
https://www.myguidemalta.com/events/round-malta-cruise-filfla-comino
BOOK NOW
Event Details
Join us onboard the Hera 2 an all-day cruise around Malta, to both Filfla* and Comino in what is sure to be a memorable experience combining relaxation with education. Expert biologists Arnold and Jeffrey Sciberras will provide us with an ongoing commentary for the duration of the trip, along with Astrid Vella. They will be highlighting the many different features of the Maltese coastline, including cliff geology, rock feature formation, the flora and fauna found on our islands, and also man's contribution in the shape of towers and other cultural developments.
*Please note that we shall be sailing very close to Filfla, but actual disembarkation onto the protected island is forbidden.

Date: Sunday 21st August
Departure: 9.00 AM
Return: 6.00 PM
Venue: The Hera 2 (pictured below) will leave from Sliema Ferries, opposite Burger King, at 9am SHARP.
Price:
€38 general public
€34 FAA members (please show your current membership card)
€18 for children 6-12
Free for children under 6
Group of 8 - €280 (non-members) / €248 (incl. at least 2 card-holding members)
For larger groups kindly phone on 20106428 or send an email on contact@faa.org.mt

Price includes welcome drink, lunch, and free flowing wine or water with meal

Booking now open at https://ticketengine.faa.org.mt/

Interested in joining FAA? Lapsed membership? Go to the Events tab on ticketengine.faa.org.mt to renew your membership.