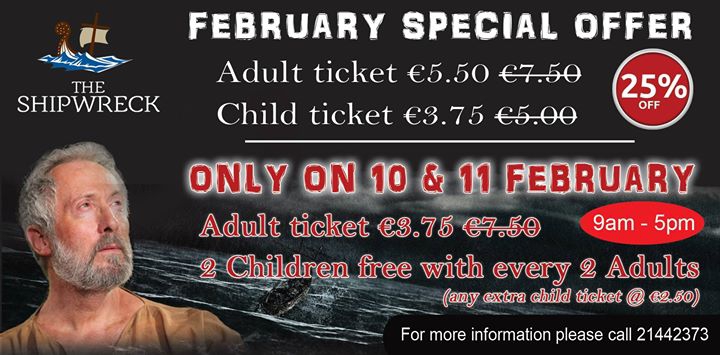 Event Details
Do you want to celebrate St Paul's feast differently?

Come and watch our show, The Shipwreck, where you will experience St Paul's journey from Jerusalem to Rome shown on a 120° screen.

We invite you and your family to attend this celebration, and get to know more insights about The Shipwreck with flash backs and flash forwards of this important event.

The Shipwreck is a docudrama projected with the use of high quality new technology, having 3 projectors on a 13x4.5m screen (120°). The duration of our show is 35 minutes. Each show starts on the hour.


Our friendly staff look forward to welcome you on board St Paul's final voyage.

Benefit from our special offer on the 10th and 11th of February, 50% off on all tickets purchased. With every 2 adults, 2 children enter for FREE.
A gift will be given to each child.
Tea and Coffee will also be offered.

The Shipwreck will be open from 09:00 till 17:00 (each show will start on the hour).

Prices: €3.75 adults and €2.50 children.
2 children accompanied by a 2 gardians enter for free.

In the month of February, The Shipwreck will be open from Monday to Friday from 10:00 to 16:00, Saturday from 10:00 to 14:00 and Sunday by appointment. You will benefit at 25% off on all tickets throught the month of February.