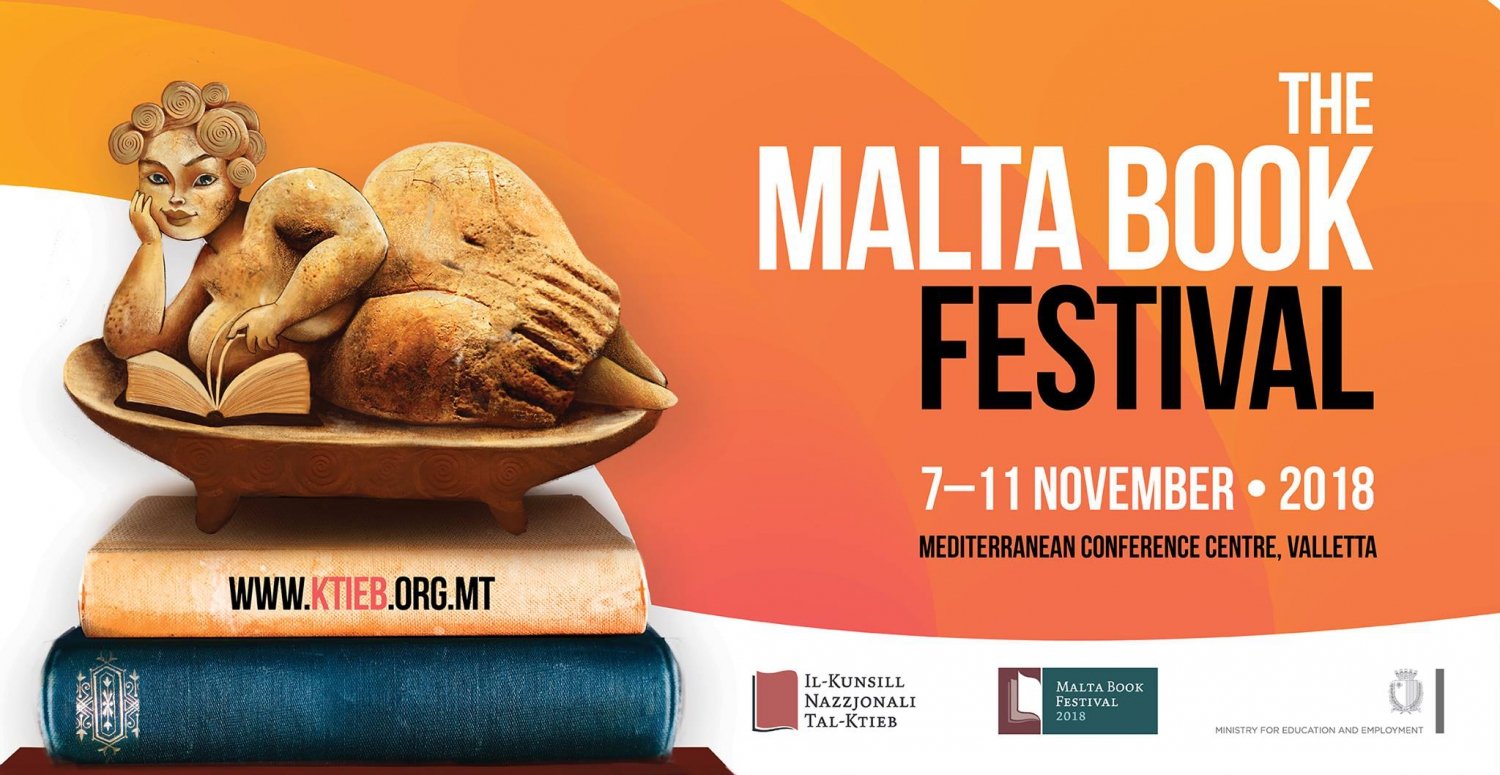 Event Details
The Malta Book Festival is the most prominent and prestigious book celebration of the year, which will take place at MCC, Valletta, starting from Wednesday 7 November 2018 and going on till Sunday 11 November 2018. The poster for the Festival is the work of well-known Maltese visual artist and illustrator Lisa Falzon, who had also produced the artwork for last year's edition.

The full programme will be delivered in printed form to all households in Malta and Gozo (download or view here: http://ktieb.org.mt/wp-content/uploads/2018/09/EN-medium-res-spread.pdf)

As is customary, the Festival will open with a conference, which this year will be themed on Literature and Diaspora and will be led by a number of foreign and local authors, among them Lou Drofenik, the Maltese-Australian writer who won the National Book Prize 2017 with her novel The Confectioner's Daughter. The foreign authors attending the conference are Philip O'Ceallaigh, Vera Duarte, and Nikola Petkovic.

On weekday mornings the Festival will welcome school visits and a special programme of cultural and fun activities has been prepared for these visits, including drama pieces, reading activities and meetings with writers. The Malta Visual and Performing Arts School will also contribute to the morning events with literary-themed performances and a visual art installation.

Among the innovations of this year's edition, there will also be a performance by the duo Danusan and the tickets for the performance will be redeemable as vouchers for books on sale in the exhibition halls of MCC during the Festival. The tickets will be available for sale online in the first week of September.

Another important innovation for 2018 is an extension of the exhibition space – this year' edition will include an extra hall for exhibitors and an extension of the activity areas for the many book presentations, discussion, launches and cultural activities that will take place. This year's special guest is world-renowned author and activist Naomi Klein.

________________________________________________________________

Il-Festival Nazzjonali tal-Ktieb 2018 huwa l-aktar ċelebrazzjoni tal-kultura tal-ktieb prominenti u prestiġjuża tas-sena, li se tkun fid-Dar il-Mediterran (MCC), il-Belt Valletta, mill-Erbgħa 7 ta' Novembru sal-Ħadd 11 ta' Novembru. Il-poster għall-Festival huwa x-xogħol tal-artista viżiva u illustratriċi magħrufa Lisa Falzon, li wkoll ipproduċiet l-artwork għall-Festival tas-sena li għaddiet.

Il-programm aktar tard se jiġi mqassam f'forma stampata fid-djar kollha f'Malta u Għawdex (niżżel jew ara minn hawnhekk http://ktieb.org.mt/wp-content/uploads/2018/09/EN-medium-res-spread.pdf)

Bħas-soltu, il-Festival se jiftaħ b'konferenza, li din is-sena se tkun imsejsa fuq it-tema tal-Letteratura u d-Dijaspora u se tkun immexxija minn numru ta' awturi barranin u lokali, fosthom Lou Drofenik, il-kittieb Malti-Awstraljanja li s-sena li għaddiet rebħet il-Premju Nazzjonali tal-Ktieb 2017 bir-rumanz The Confectioner's Daughter. L-awturi barranin li se jieħdu sehem fil-konferenza huma Philip O'Ceallaigh, Vera Duarte, u Nikola Petkovic.

Fil-ġranet ta' matul il-ġimgħa filgħodu il-Festival ser jilqa' żjajjar tal-iskejjel u programm speċjali ta' attivitajiet kulturali u divertenti ġie mħejji għal dawn iż-żjajjar, inklużi drammi, attivitajiet ta' qari u laqgħat ma' kittieba. Malta Visual and Performing Arts School se jikkontribwixxu wkoll għall-avvenimenti ta' filgħodu b'prestazzjonijiet imsejsa fuq temi letterarji u installazzjoniartistika.

Fost l-innovazzjonijiet tal-edizzjoni ta' dis-sena, se jkun hemm ukoll prestazzjoni mid-duo Danusan u l-biljetti għal dan ix-xow jistgħu jinfdew bħala vouchers għall-kotba li ser ikunu għall-bejgħ fis-swali tal-MCC matul il-Festival. Il-biljetti se jkunu disponibbli għall-bejgħ online fl-ewwel ġimgħa ta' Settembru.

Innovazzjoni importanti oħra għas-sena 2018 hija l-estensjoni tal-ispazju tal-esebituri: l-edizzjoni ta' dis-sena se tinkludi sala oħra għall-esibituri u estensjoni tal-activity areas għall-bosta preżentazzjonijiet ta' kotba, diskussjoni, tnehdijietu attivitajiet kulturali li se jsiru. L-awtriċi u attivista, magħrufa mad-dinja kollha għall-kitba tagħha, Naomi Klein, titkellem mal-ġurnalist Matthew Vella dwar theddid eżistenzjali, bħaż-żieda fissħana
globalment, il-politiki neoliberali, u l-ekonomiji tad-diżastru. L-udjenza għandha ċ-ċans li tistaqsi xi mistoqsijiet jew tgħaddi xi kummenti fi tmiem iddiskussjoni.