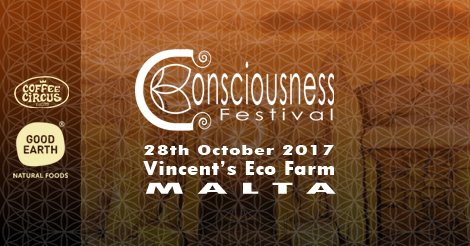 Event Details
Consciousness Festival 2017 will be a gathering of music, arts and culture deeply rooted in love and respect. We are organising this event as a calling to all people to come learn and enjoy with us the beautiful atmosphere, music & art that we will create.

Venue : Vincent's Eco Farm - Mgarr Malta
Date : 28th October 2017
Opening at 10.00am
Price : 5 Euro

Workshops
Meditation / Yoga / Tai Chi / Permaculture - more to be confirmed

Music
Psychill / Acoustic / Jamming - Line up will be available soon

Full fledged Artisan Market

Vegan food & non alcoholic drinks

Part of the profit will go towards the creation of an NGO which will start to help create Permaculture Communities in Malta and around the world.