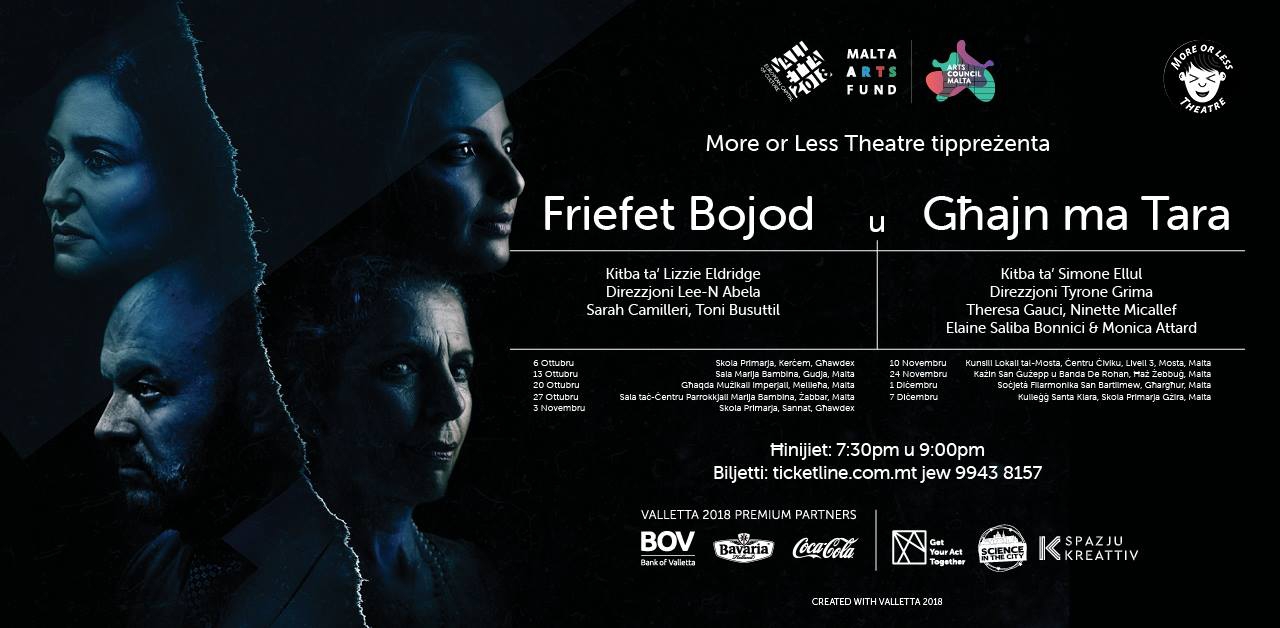 Għajn Ma Tara / Friefet Bojod
Sat Oct 13th 2018 to Sat Dec 8th 2018
---
Malta
,

Across Malta

Malta
https://www.myguidemalta.com/events/ghajn-ma-tara-friefet-bojod
BOOK NOW
Event Details
'Get Your Act Together' is a theatrical project that helps Malta-based playwrights create exciting and relevant new plays from scratch.

This year, we will be showcasing the two plays that have emerged from this project at various locations around Malta and Gozo. These are 'Għajn ma Tara' by Simone Ellul and 'Friefet Bojod' by Lizzie Eldridge.

'Għajn ma Tara' follows two elderly, unmarried sisters, both of whom are living alone. One day, they are unexpectedly visited by their niece, Susan, who has just returned from Sweden following the dissolution of her marriage. As the young Susan attempts to show them how to use a tablet, the three reconnect with each other and old family resentments begin to resurface. The play is directed by Tyron Grima and stars Theresa Gauci, Elaine Saliba Bonnici and Ninette Micallef with Monica Attard.

'Friefet Bojod' tells the story of Josette who lost her son to a drug overdose and wants to plant a tree on the spot in which he died. However, the land is being developed into a high-rise building by Tony. Will Tony be able to see past his greed and be compassionate, or will Josette be forced to give in to his brutish demands? This piece is directed by Lee-N Abela and stars Sarah Camilleri and Toni Busuttil.

Rather than staging the plays at a single location, every Saturday during October, November and the first two weeks of December, these productions will be going to the audiences in a tour of various performance spaces situated around the Maltese Islands.

Each 50-minute long play will be followed by a brief discussion and they will be staged one after the other. Please note due to the sensitive nature of these subjects, this event is only suitable for an audience of 16+.

Doors open at 7:00pm, show starts at 7:30pm!

'Get Your Act Together' is spearheaded by More or Less Theatre, with the support of the Valletta 2018 - European Capital of Culture Foundation, the Malta Arts Fund within Arts Council Malta and Science in the City, 2018.

Full dates and locations of the shows can be found below:

28th September 2018 — Spazju Kreattiv, Il-Kavallier ta' San Ġakbu, Il-Belt Valletta
29th September — Spazju Kreattiv, Il-Kavallier ta' San Ġakbu, Il-Belt Valletta
30th September — Spazju Kreattiv, Il-Kavallier ta' San Ġakbu, Il-Belt Valletta
6th October 2018 — L-Iskola Primarja ta' Kerċem, Kerċem, Għawdex
13th October 2018 — Sala Marija Bambina, Gudja, Malta
20th October 2018 — Għaqda Mużikali Imperjali, Il-Mellieħa, Malta
27th October 2018 — Is-Sala taċ-Ċentru Parrokkjali Marija Bambina, Ħaż-Żabbar, Malta
3rd November 2018 — L-Iskola Primarja ta' Sannat, Sannat, Għawdex
10th November 2018 — Il-Kunsill Lokali tal-Mosta, Ċentru Ċiviku, Livell 3, Il-Mosta, Malta
24th November 2018 — Każin San Ġużepp u Banda De Rohan, Ħaż-Żebbug, Malta
1st December 2018 — Soċjeta Filarmonika San Bartilmew, Ħal-Għargħur, Malta
7th December 2018 — Kulleġġ Santa Klara Skola Primarja Gżira, Il-Gżira, Malta
8th December 2018 — Spazju Kreattiv, Il-Kavallier ta' San Ġakbu, Il-Belt Valletta

Each venue can only take a maximum of 100 people, so book your tickets quickly before they run out! We will also have a limited number of tickets available at the door on the day.

Please note that tickets for the Spazju Kreattiv performances (28-30th September and 8th December) need to be booked directly through http://www.kreattivita.org/event/get-your-act-together/

For further inquiries, please either get in touch with us directly over Facebook Messenger or give us a call on 99438157.