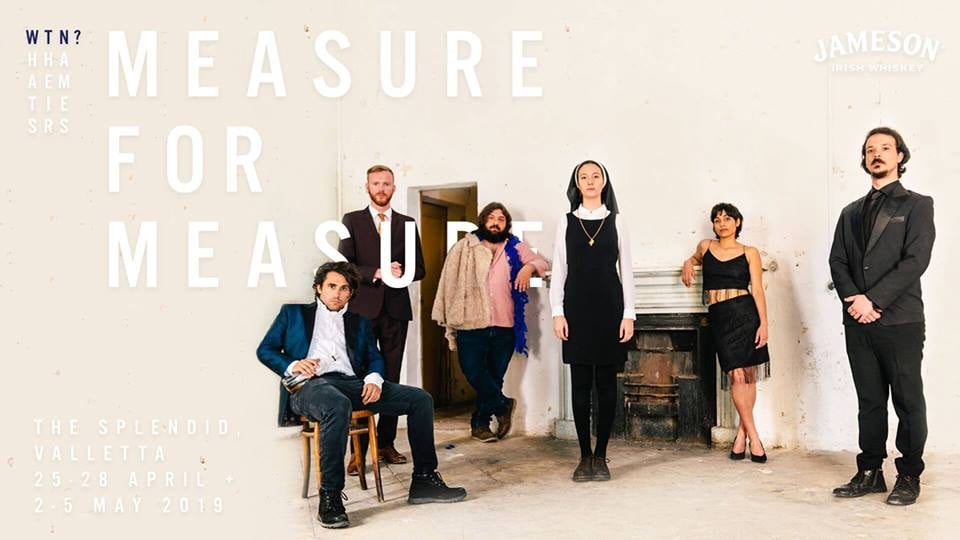 Measure for Measure: Strait Street Shakespeare
William Shakespeare's dark satire of lust, power and corruption comes to Strait Street
Fri Apr 26th 2019 to Sun May 5th 2019
---
Malta
,

The Splendid

,

Strait Street

,

Valletta

Malta
https://www.myguidemalta.com/events/measure-for-measure-strait-street-shakespeare
VISIT WEBSITE
Event Details
"The tempter or the tempted, who sins most?"

Claudio has been condemned to die, sentenced under a long-forgotten fornication law by Angelo, the puritanical new governor of Vienna. On the day she was supposed to take her vows as a cloistered nun, Claudio's sister Isabella must instead plead for her brother's life. Angelo listens, and is willing to spare Claudio, but at an unthinkable price. It's not exactly her prayers he's after.

William Shakespeare's dark satire of lust, power and corruption comes to Strait Street's favourite abandoned brothel in a fresh take by the team behind the beloved Shakespeare at the Pub trilogy, with six actors in multiple roles, a bit of music, a dash of burlesque, and continued easy access to booze, because honestly we never learn.

Only 50 tickets will be sold each night so booking early is highly recommended.

Directed by Philip Leone-Ganado. Featuring: Jonathan Dunn, Joseph Zammit, Joe Azzopardi, Sandie von Brockdorff, Nathan Brimmer and Michela Farrugia. With guest artists Undine La Verve and Marie-Elena Farrugia.

Performances will take place on April 25, 26, 27 and 28, and May 2, 3, 4 and 5 at 8pm. All tickets at €20 (includes a free drink on entry).

To book - email: whatstheirnames.theatre@gmail.com | mobile: 7734 5207 or 7905 2522.

Special thanks to our sponsors, Jameson Irish Whiskey!

Note: Measure for Measure features themes of sexual assault and is not recommended for young audiences. Contact us if in doubt.