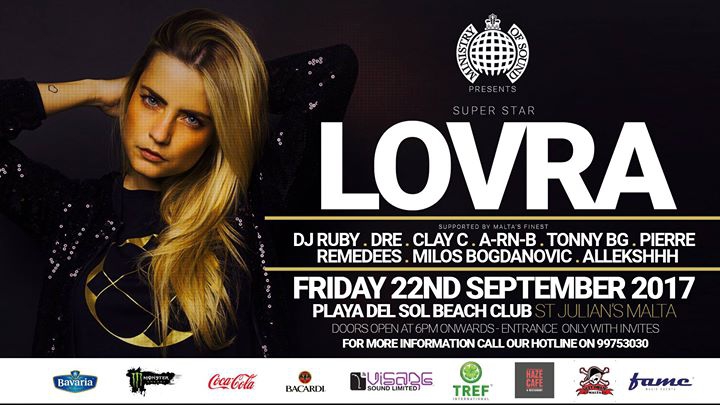 Event Details
Ministry of Sound is back in Malta and this time headlining the event will be the MoS resident DJ - LOVRA.

By combining her attraction towards music from the eighties and nineties with her natural feeling for modern melodies, LOVRA created her own distinctive sound. Her tracks are full with groovy house tunes, striking vocals and danceable beats. Driven by the curiosity for new sounds and the need to pay homage to the music of the past decades, LOVRA is well on track.

Also supporting her on stage will be Malta's finest DJ RUBY, DRE, Clay C, A-RN-B, Tonny BG, Remedees, PIERRE, Milos Bogdanovic & Alekssh.

The event will be returning to the newly refurbished Playa Del Sol Beach Club enjoying lovely panoramic sea views of Balluta Bay. Entrance to the event will be FREE by invite.

You can collect your FREE invite from Haze Cafe and restaurant St Julians, Lazy Pirate Crew, The Electronic Factory Crew, Invidious Media, Pn Club Rabat, Sphinx Fgura, Fact Qormi


Main Sponsors :
Bavaria , Monster , Coca Cola , Bacardi, Visage Sound Ltd, Tref international Ltd Haze Cafe, Fame.