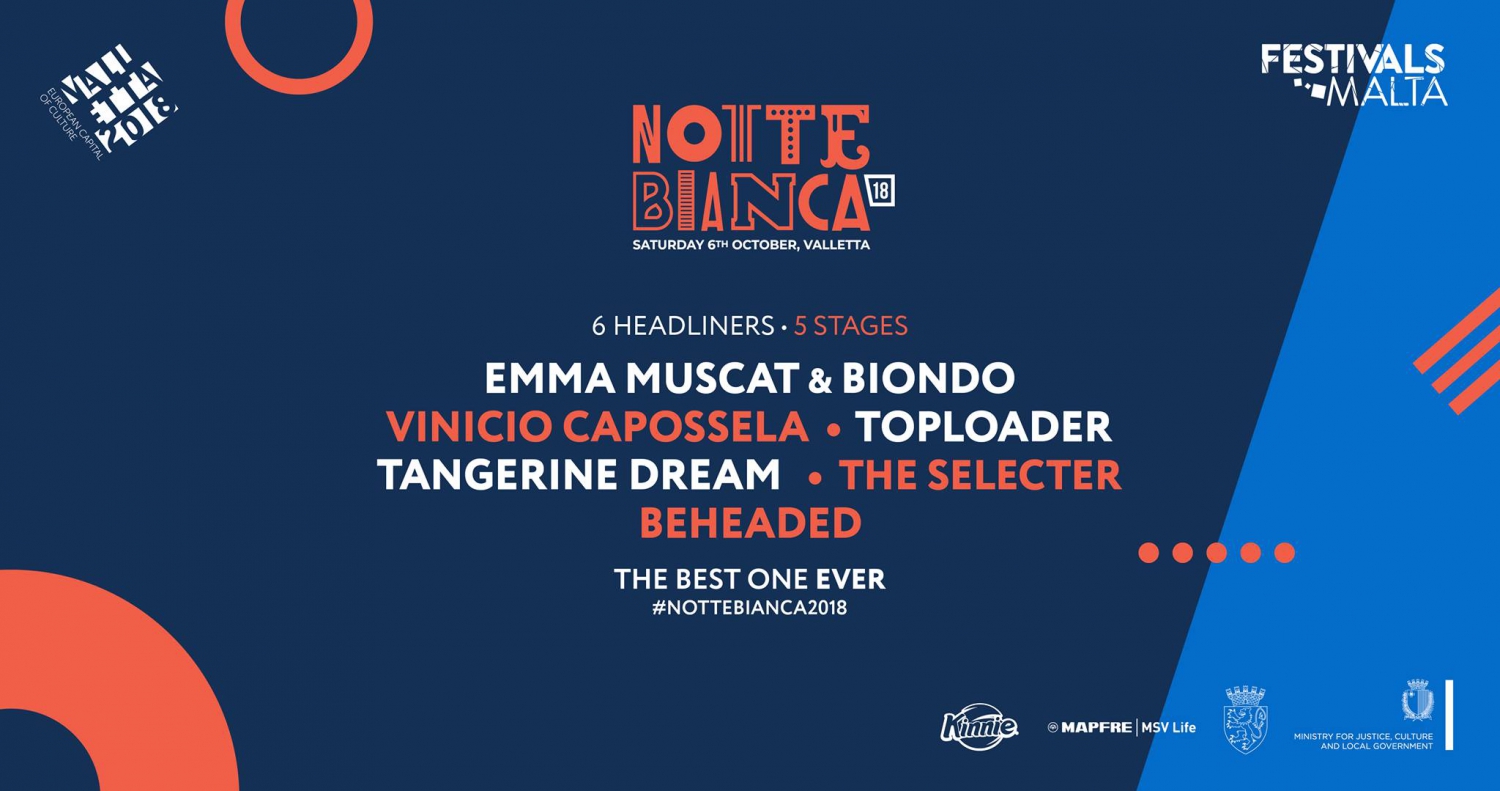 Notte Bianca 2018
Sat Oct 6th 2018
---
Malta
,

Valletta

Malta
https://www.myguidemalta.com/events/notte-bianca-2018
VISIT WEBSITE
Event Details
Notte Bianca is Malta's biggest annual arts and culture festival. For one special night every October, Notte Bianca lights up the Valletta cityscape with a spectacular celebration that is open to the public free of charge.

Festivalgoers can expect to experience the very best in music, dance, theatre, visual arts, literary events, as well as an exploration into the emerging world of new and digital arts. During Notte Bianca, Valletta's streets and public spaces are used in innovative, creative ways thanks to a mix of roaming and site-specific projects.

State palaces and museums open their doors to delight patrons with visual art exhibitions and theatre performances. Streets and piazzas are transformed into venues for open-air theatrics and concerts, while many cafes and restaurants extend their hours. Every which way you turn, you are bound to stumble upon another festival treat.

All of Valletta, from City Gate to Fort St. Elmo, comes alive on Notte Bianca, guaranteeing a memorable night that truly holds something for everyone.

This annual event illuminates the cityscape of Valletta with a spectacular celebration of arts and culture. The festival has premiered various successful projects in the field of new and digital media. And the year 2018 delivers an ECoC edition – a special run of the festival focusing on new media and participatory installations that strengthens its position as a platform for collaboration, experimentation and community involvement.

Across a carefully designed programme of events, local and international artists set off the night's festivities with live music, dance, film and theatre performances. As part of its fringe programme – Notte Bianca Atmosfera – Valletta also opens its museums, historical buildings and art galleries to the public free of charge. With cafes, restaurants and food stalls open till late, visitors can enjoy a relaxing meal and a range of cuisine on the go.

Valletta 2018 will host the following events related to the theme of love, loss and longing during Notte Bianca at the Lower Barrakka Gardens in Valletta:

Orfeo & Majnun: Animal Building Workshop
A special Film Selection
Il-Festa ż-Żgħira (the small Festa)
Pop-up performances by Ħolm Butik

A train will be transporting passengers from central Valletta to the Lower Barrakka Gardens.