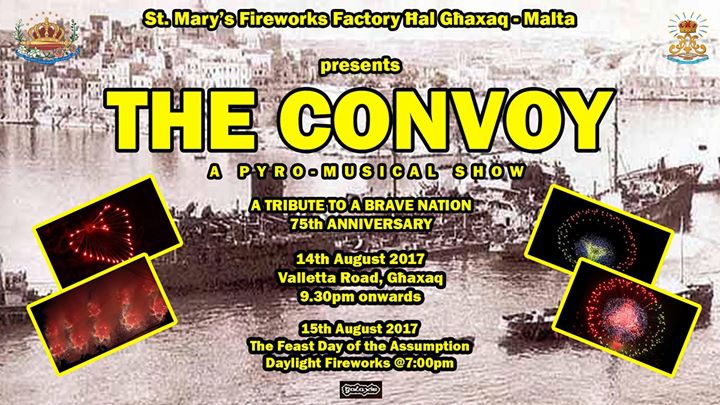 Event Details
L-Kamra tan-Nar fi hdan l-Ghaqda Muzikali Santa Marija ta' Hal Ghaxaq ser tipprezenta spettaklu ta' nar sinkronizzat ma' selezzjoni ta' muzika bl-isem ta' The Convoy, nhar it-Tnejn 14 't Awwissu mid-9.30pm 'l quddiem, fit-triq il-Belt Valletta.

Ghal dan l-ispettaklu sinkronizzat ser tintuza is-sistema Galaxis Pyrotec, li din is-sena ser tkun l-ghaxar darba li l-ghaqda taghna uzat ghal dan l-ispettaklu.

Sejrin tassistu wkoll ghal hruq ta' murtali tradizzjonali kemm tal-beraq kif ukoll tal-kulur, sfejjer, bebbux, disinni u blalen kbar fl-gheluq ta' dan l-ispettaklu.

The Convoy jigi fi tmiemu bi spettaklu ta' loghob tan-nar tal-art mekkanizzat.

Jkun hemm provudut ikel u xorb bi prezzijiet konvenjenti minn bars armati apposta.

L-ghada t-Tlieta 15 t' Awwissu, nhar il-festa tal-Padruna tal-Ghaxqin. Hekk kif tohrog l-istatwa artistika ta' Santa Marija mit-tempju taghha ghal habta tas-7.00pm, naharqu kaxxa infernali kbira mzewqa b'kollox.Wara jinharqu sett ta' murtali tradizzjonali kif jixraq lit-Titular.

Narawkhom!!!