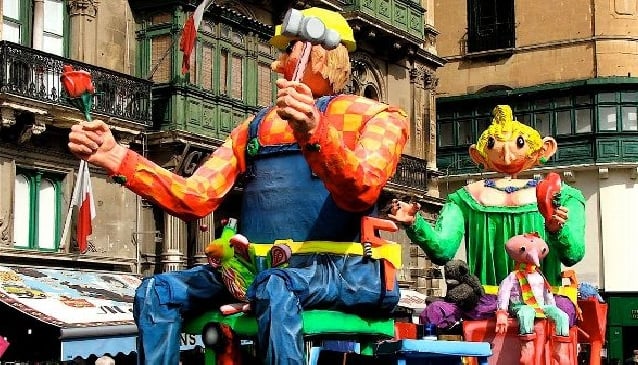 Carnival in Malta
Food & Drink Lifestyle Press Releases
Marching bands and costumed children enjoy the merriment along the historic streets
The 2017 Carnival activities in Malta and Gozo are being held between Friday, 24th February and Tuesday, 28th February.

Malta is not the first destination that pops to mind when mentioning 'Carnival', but the festival is well entrenched in the island's cultural calendar and is undeniably one of the best events in Malta. Tourists usually stumble upon the festivities by chance…and boy do they enjoy it. Most are simply swept off their feet with all the colourful floats, elaborate costumes, children dancing routines, merriment, spontaneity and downright silliness.
It might not be as grand as Rio de Janeiro but Malta's carnival is colourful, vibrant and loads of fun!

Carnival in Malta has a long history dating back to the times of the Knights of Malta in the 15th century. The increasingly wild festivities throughout the years made several Grand Masters unhappy with its unruliness and quite a few tried to curb the events. But Carnival in Malta withstood the test of time and today enjoys massive popularity with locals and an increasing reputation with foreigners.
Even though celebrated across all the Maltese islands in town squares, schools, homes and private parties, today the main organised Carnival activities take place in Malta's capital Valletta and its neighbouring Floriana. A more recent phenomenon, that has also attracted international media attention, is the annual spontaneous Nadur Carnival that takes place in Gozo. A little more on both…
Malta's Pompous and Spectacular Carnival
Local aficionados spent a whole year in secrecy preparing for the four days of events to participate and compete in the Carnival parade. Eerily beautiful and colourful floats which depict all sorts of people, animals and mythical creatures, throng the streets of Valletta with dancers in elaborate costumes partying aboard (costumes are more family friendly then their Brazilian counterpart). Carnival float building in Malta is an art inherited through family generations and enthusiasts take great pride in their work with more than a touch of rivalry amongst participants.
Carnival days in Valletta also host a number of marching bands, costumed children and youths enjoying the merriment along the historic streets, whilst various costumed dance groups perform in Valletta's main square with families enjoying the show from purposely set-up stands.

The Spontaneous Carnival in Nadur, Gozo
The carnival activities in Nadur have literally taken a life of their own. Nothing organised, nothing preplanned - just a swarm of revellers in all sorts of weird, strange, funny, creative and grotesque costumes descending in a small town square to crowd the streets for one party like no other. Hundreds of Gozitans, Maltese and an increasing number of foreigners join in the craziness. It is not for the faint hearted though, as it takes on a generally more dark and macabre atmosphere when compared to the more family-friendly Carnival activities across the Maltese islands.
As with any celebration in Malta, Carnival is also associated with lots of food and drink. The most popular of all must be the local Carnival sweet - the 'Prinjolata', a uniquely shaped cake, resembling a snow coated mountain, made from pine nuts and Madeira cake and topped with cream, grated chocolate and candied cherries.
Across Malta, a number of other Carnival related events take place throughout the week including more swanky Venetian-style Carnival Balls. It really is a matter of choosing what sort of Carnival scene you feel most comfortable in…or for the die-hard Carnival enthusiasts, there is always the option of fitting something of each across the four days in which Carnival is celebrated.

The 2017 Carnival activities in Malta and Gozo are being held between Friday, 24th February and Tuesday, 28th February.