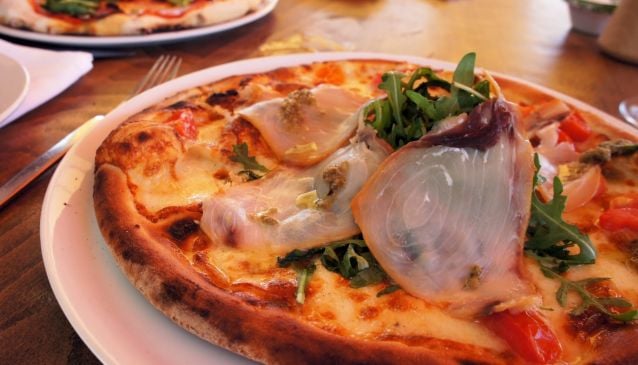 The Top 10 Things to Taste in Malta
Food & Drink
stewed rabbit has become synonymous with Malta's cultural identity.
Unashamed in its rich gluttony, Maltese gastronomy is undeniably sumptuous. Doughy, delectable and often slow-baked, here hearty meals such as pizza, pasta and sweet pastries prevail.
Given Malta's geographic position, however, this is hardly surprising. Bobbing in the middle of the Mediterranean, and prominently placed beside Tunisia and southern Sicily, these North African inflections and strong Italian leanings are, quite frankly, inevitable.
Combine this with Malta's turbulent history of battles and sieges, where foreign rule became almost the norm, and Arabic, British and Middle Eastern flavours can also be thrown into the melting pot.
Delving mouth-first into this deliciously unique cuisine, here are just ten of Malta's tastiest dishes, drinks and snacks, all of which can be found in those delectable restaurants in Malta.
1. Maltese Pizza
Welcoming this iconic Italian dish, pizza is a source of particular pride for the Maltese; all around the island 'Pizza, Pasta, Grills' have popped up to promote this oil-drizzled dish. Commonly cooked to crisp perfection in a stone baked oven, Maltese pizza is exceptionally delicious thanks to its thin, crusty base. Sprinkled on top with hearty meat or fresh Mediterranean vegetables, one slice simply isn't enough!
Photo by The Stroke Blog: http://www.blog-jess.com/
Sweet and tasty, these deep-fried pastries are truly divine (so long as you don't count all their calories!) Stuffed with dates and served as a warm dessert, often accompanied with ice cream, these fragrant and softly spiced treats are worth ditching the diet for.
Often typified as the national dish, stewed rabbit has become synonymous with Malta's cultural identity. Almost as important as the soft and succulent meat, however, is the act of going for the meal itself. Known traditionally as a 'fenkata', this festive feast is not only an excuse to gather all the friends and family but has become a seasonal occasion for most Maltese.
Best described as one of Malta's most distinct fizzy drinks, Kinnie is formed from an aromatic blend of bitter oranges, sweet spices and pungent herbs. While sounding like something a child might cook-up in their mother's kitchen, Kinnie's curious composites mysteriously align to form a devilishly tasty dark-amber nectar.
Famously found in lunch boxes around the island (adults included!), this popular snack helps to keep the wolves at bay between meals. Found in cheesy, chicken and bacon flavours, Twistees are the local version of naughty-but-nice nibbles.
Image Credit: Flickr - Chris Brown
The literal translation, being bread with oil, just doesn't do this dish justice. A better description would be ' a rustic Mediterranean loaf'. For this specialty, fresh crusty bread is fervently lavished with olive oil and stuffed with a combination of ingredients that include capers, olives, garlic, tuna, anchovies and sweet tomato paste. However, Gbejna –peppery cubes of succulent goat's cheese, in my opinion, really takes the Hobz-Biz biscuit as the best addition to this delicious bread!
Image Credit: Flickr - Haedrian
Amalgamating two beloved dishes, Timpana gives you the ultimate pasta-pie. Made from macaroni pasta and bolognese meat, this traditional platter is baked in a puff pastry layer until lightly golden brown. A word of warning, however, this dish is best served with a subsequent nap.
A premium lager, Cisk is one of Malta's most significant exports. Locally brewed with a light and refreshing taste, Cisk can be enjoyed without fear of any beer-belly retribution. Unless, that is, you decide to down ten in row; then are making no such promise
Formed from the flesh of the local prickly pear fruit (Bajtra), and shimmering in a translucent red, this luminous liqueur looks deceptively close to a cough mixture medicine. However, far from a revolting remedy, this sweetened solution slips down very easily as an after dinner treat. Some might even call it salubrious for the soul, (I said might…)!